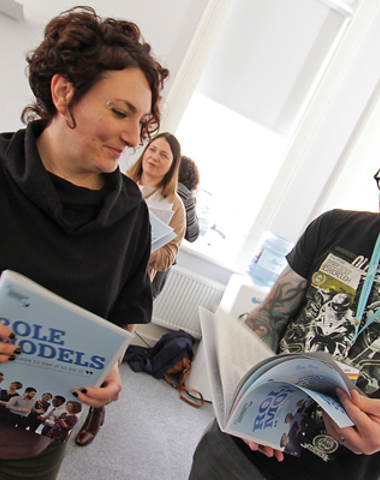 >
Sarah, Manager, SMaRT
We make a difference to people's lives. It does sound a bit of a cliché, but we're there in times of crisis.
I've been here 13 years. Every day is different and I love it.
I think for any of us, we do this job because we care. You have to be empathetic. I always say that you cannot train somebody to care, or to show empathy, it's inbuilt in you.
Anthony, Administrative Assistant
I began working for NCHA in October 2014 as part of an apprenticeship for Level 2 Business, which I successfully completed in January 2016.
I am now a permanent employee of NCHA. Having completed and passed my Level 2 Business Admin, I have now begun the Level 3 version of the qualification, which is being funded by NCHA. I chose to apply for a permanent position at NCHA as I thoroughly enjoyed my time as an apprentice; everyone has a generally positive attitude and the development opportunities available are immense.
Saima, Support Worker
I work with 'Moving Forward City.' It has helped me to learn a lot about mental health and I am very fortunate to work with a lovely team.
Recently I have been selected as a Diversity Champion, to represent religions and raise awareness.
NCHA is rich in culture and a diverse organisation to work for. People are treated with respect, and the company is good at putting people in positions to maximise their strengths.
Vicki, Cleaner
I have found the people here at NCHA's head office are lovely. I enjoy coming to work as it's a really nice atmosphere. In previous places where I have worked cleaners were looked down on but I don't find that here: everyone treats me as an equal.
Wendy, Support Worker
I can empathise with the people I support, and I know how they're feeling and what they're going through. And that's why I chose to work in the line of care and support.
It's a fantastic job, you get out of it what you put in - the more you put in, the more you get out.
What I get out of the job is absolute job satisfaction, every day of my life. You can't buy that.
Jason, Scheme Manager
I started working with NCHA in May 2009 as a support worker. I chose NCHA at the time as they were renowned for their training, progression and retention of staff. And true to their reputation, I am still here and now a Scheme Manager. I have been supported from day one to progress in terms of training.
Looking back at my journey with NCHA, I am pleased I made the decision of choosing NCHA as an employer; they are really committed to staff development and progression and making a positive difference in both staff and service users' lives.
Jessica, Support Worker
I started at NCHA as an Apprentice Business Administrator. I was supported to complete my NVQ Business Administration Level 2. I then moved to Housing with Care and Support Reception and completed my NVQ Business Administration Level 3.
Now I am a Support Worker at a service for homeless young people aged 16–21.
I have enjoyed every minute of the way through NCHA. I feel secure as an employee with NCHA, and fully believe that I will be with the organisation for a very long time.
Deloris, Care Assistant
I've been working at NCHA for more than ten years. I moved from one project to another so that I could continue to support two service users that were moving to a new home. It feels like a family home at our project: all the services users are good friends, and I enjoy working here as part of our team.
Brian, Care Assistant
I initially started working at NCHA as a cleaner eight years ago. I have since been able to pursue a career in an area which I'm passionate about: care. While I've been working at Nuthall Road Supported Living Service, I've learned a lot - I get regular training, and my colleagues are really helpful. The shifts are well balanced, and it's easy to get to and from work. I love it here.