Space for nature
At NCHA we're always on the lookout for more ways to protect the environment and enhance the communal areas on our estates.
One very simple change we can make is to attract wildlife to the area by letting the grass grow longer and encouraging wild flowers to emerge.
Why the long grass?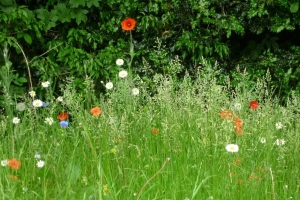 We're beginning to let the grass grow at a few of our communal green areas. By managing these areas differently, over the next few years we'll be encouraging wildflowers to grow and wildlife to visit.
We've already had great success at May Hill in Southwell and hope to roll this out to many other areas over the next few years. These grass areas will help enhance the environment of our outdoor communal areas.
But don't just take our word for it. Find out more from Grow Wild UK.
A long-term commitment
We have a long term ambition and commitment to create biodiversity in of all our places, to improve the lives of our customers and their communities.
These plans form part of our initiatives set out in our environmental standards and will form part of our new Sustainability Plan.