Mental health helplines
We provide helplines for people experiencing mental health issues in specific regions:
If you don't live in one of these areas, visit the NHS website for information on national mental health helplines. 
What to expect when you ring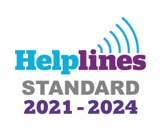 We will listen to your concerns, and provide emotional support and reassurance. If you need to access other services, we'll help you by providing information about them. 
We are accredited with the Helplines Standard for our mental health helplines.
Working with us
If your council or organisation would like to know about the services we provide, please get in touch. Our helpline services can be customised to suit the needs of your organisation, and we can provide referral and signposting to other services for both individuals and their carers. We respond to urgent concerns and operate within a recovery model, ensuring callers benefit from an effective intervention, in line with local mental health support pathways.
We support people who are:
at risk of developing mental health problems
diagnosed with common mental health problems
known to mental health services
experiencing mental health distress
seeking information, advice and support.
We deliver mental health telephone support, advice and guidance services for:
Greater Huddersfield CCG
Calderdale CCG
North Kirklees CCG
Wakefield CCG
Leeds CCG
Barnsley CCG.
Contact Sarah to find out more: sarah.wiest@ncha.org.uk