Creating apprenticeship opportunities
10/07/2023
Meet Harry, the new apprentice at Slack and Co Flooring, helping them to deliver their new contract for NCHA.
Eight weeks into the role, he's already getting stuck in helping to replace both carpet and vinyl flooring.
His on-the-job learning position is part of Slack and Co Flooring's new contract with us. Following an initial trial, the company have recently been awarded a contract, after taking part in a competitive tender, to provide and fit all of our communal flooring for the next four years.
Making an impact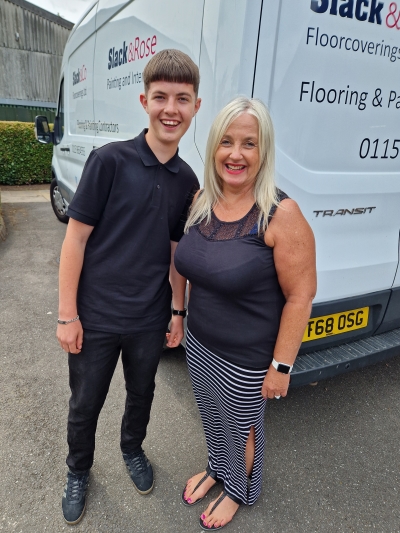 As part of our social responsibility commitment, the apprenticeship role was written into our agreement with Slack and Co Flooring, and contributes to our promise to create social impact through our contracts with local businesses. It all forms part of our five year Social Impact Strategy.
Harry will be able to learn the trade, whist earning a wage. At the end of his two year apprenticeship, he'll have gained a Level 2 qualification in flooring.
Harry explains: "I'm not the kind of person that wants to sit behind a desk, so this is perfect for me. It's great fun ripping up the old flooring, and really satisfying to lay down the new surface. It feels brilliant to see the finished job and know I helped make it happen.
"This is such a great opportunity, and I'm really grateful to both NCHA and Slack and Co for the opportunity."
We're now supporting the recruitment of a second apprenticeship – Sam will join the team later in July – to compliment Slack and Co Flooring's work for our Property Maintenance team. This secondary contract will see them supporting our planned maintenance, repairs and new flooring needs.
Luan Hutchinson, Operational Manager, said: "The partnership we've developed with Slack and Co Flooring will benefit our customers in delivering our ongoing service requirements. The recruitment of an initial local apprentice, to assist service delivery is a productive and effective way to grow talent and add to the motivated, skilled and qualified workforce that Slack and Co have."
Gary Slack, Managing Director at Slack and Co Flooring comments: 'We're delighted to be working with NCHA and the opportunities our contract / partnership creates for apprenticeships. Offering on the job training to local people helps ensure key skills are passed on, and delivers social impact in our local community. We're delighted to have Harry on board, and he'll be a great asset to us as we deliver our contract for NCHA."
We're proud to be working with Slack and Co Flooring on supporting apprenticeship opportunities and helping local people build skills for the future.
Working sustainably
Our flooring standards have been developed in line with dementia friendly guidance and inclusive living specifications. This means that the products we use are 'future proof' (fit for purpose for longer), and a more sustainable choice. Slack & Co Flooring will be buying our flooring of choice in bulk, securing value for money for us and our customers.
And finally: We'd like to thank Slack and Co Flooring for donating to our Golden Miles fundraiser helping us to raise over £5,000 for Crisis.