Volunteering at an NCHA refuge
05 June 2023
Volunteers from across NCHA outdid themselves at our gardening events on 18 and 22 May, which were made possible thanks to generous funding from Efficiency East Midlands (EEM).
The activities took place at an NCHA refuge for women and children fleeing domestic abuse, so nurturing positive and inspiring environments couldn't be more important.
Creating a magical place for children
The volunteers planted fruit trees and shrubs in the main garden and built planters for a vegetable patch.
A new outdoor fairy garden den was also constructed for the refuge's children to enjoy story-time in a magical forest setting, complete with a wonderland-style willow tunnel entrance.
Volunteer Kardelen Ucar, NCHA's Graduate Bid Writer, said: "It feels very special shaping this story-time area so children can enjoy learning and growing together in a safe and positive space. Hopefully NCHA's customers will be able to find some peace and solace here while having fun learning new skills."
Speaking about the refuge's new vegetable patch, Project Manager Donna Sadler said: "Our hope when we started was for us to be able to provide some fresh food for women and children coming into refuge when they flee without anything.
"We also hoped that children growing and nurturing foods to eventually harvest will help them to talk and start to repair from trauma."
Overseeing the activities were independent gardener, Beth, and team members from Sherwood Garden Consultancy, led by Andy Callow, Chair of Nottingham Organic Gardeners.
Celebrating women in construction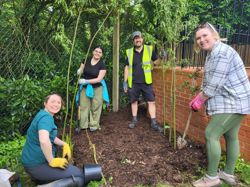 For the second event on 22 May, women from across NCHA's Property Services and Development teams, Pelham and project sponsors EEM got together to celebrate 'women in construction'.
Louisa Payne, Head of Operations at EEM, said: "EEM Ltd. were so happy to be a part of such a great day and contributing to the overall project to help and support the residents. My colleague Jess and I enjoyed creating lasting impressions for memories to be made, and I must say making the willow den was our favourite – simple and effective with a great fun impact for all to enjoy."
Together, the volunteers carried this worthwhile work over the line to transform the gardens into a thriving green haven for women and children who've survived abuse.
Feeling inspired?