Retired Joe used shared ownership as an affordable way to own a new home.
Shared ownership is an affordable way to buy a home of your own. NCHA's customers have written about their experiences in a series of case studies, to explain what shared ownership has done for them.
Joe previously had a buy to let property for ten years. After his relationship ended he moved into rented accommodation, which was really expensive. Investing in a brand new two-bedroom semi-detached house with the support of shared ownership has helped him get back on the property ladder but has also reduced his outgoings.
Joe retired in 2020 and became a mature student at the University of Derby campus in Buxton, studying Outdoor Leadership. He really is living his best life, enjoying the great outdoors. He is planning to lead outdoor groups in the Peak District, Lake District and Snowdonia, so the location is ideal.
"I had googled shared ownership and thought the houses on Granby Road in Buxton seemed like a great fit for me. I attended the open day and met Sandra the Sales Negotiator and she helped me choose the right plot. I chose the plot which backs onto open land with stunning views over the Peak District. I couldn't be happier. The sunrise and sunsets are simply stunning!
"I went shopping with my sister and brought all new furniture for the house. New carpets have been fitted and I am just waiting for the blinds to arrive. I've only been in the house a few weeks, but it is really starting to feel like home."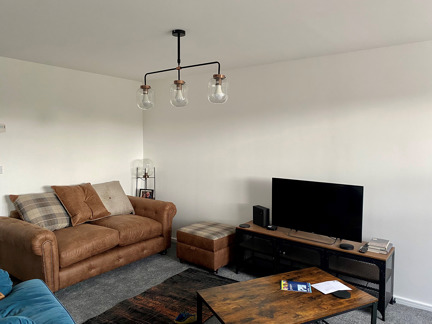 Joe had enough in the bank from the sale of his previous home to purchase 35% of this new property as a cash buyer. This meant his monthly payments are just the rent on the remaining share of the house (plus bills).
Joe says: "I reduced my outgoings by 50%. Shared ownership has helped me get back on the property ladder, and made the process much more affordable. My future feels secure as I am in the perfect situation. I am here to stay and hope to buy more shares in the future."
Shared ownership can help lower living costs and help you build equity in a home of your own. We sell new shared ownership homes across the East Midlands.