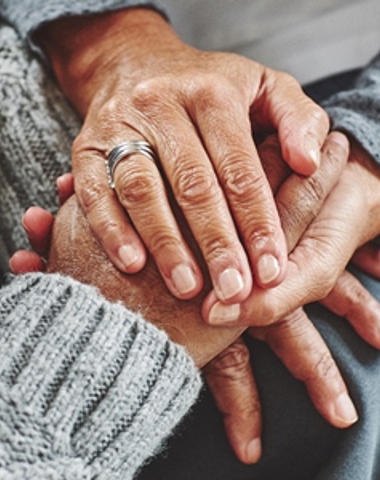 Life has dealt Linda (not her real name) some tough blows. Having lived in the same town all her life, Linda moved to her flat a couple of years ago. Her home, at one of NCHA's Independent Living for Older People Schemes (ILOPs), offers her a place of refuge and support.
Born with a facial disfigurement, Linda suffered from constant bullying throughout her childhood. "My mother wasn't very supportive. I came home crying every day and she just told me not to worry about it, that there was nothing wrong with me. Perhaps she was just trying to teach me that I was fine as I was, I don't know."
As soon as Linda turned 16 she sought medical advice and a specialist agreed to help her. Between 16 and 21, Linda endured over 30 painful operations on her face. "After the final operation I decided my face was fine as it was!"
Linda settled into family life with her young son, unaware that further painful times were ahead.
"A man broke into my house one night and raped me. There was no rape crisis support at the time and I turned to drink and self-harm to try to deal with the pain."
Unable to process what had happened to her, Linda became an alcoholic and was in and out of mental health institutions for many years.
"I had a baby to look after, but I didn't care for him as well as I could have done. I was too distracted with coping with my pain. A friend helped me raise him. It is because of her that I got to keep him.
"My friend is living here too, we look after each other. I'm looking after her to repay her for everything she did for me. We have been friends for over 30 years; I owe her my life."
After decades of alcohol addiction, Linda decided it was time to take action: "I was getting ill. I knew it was time to make a change for the better. I asked to be sent to rehab. It was hard going at times - I thought I'd walk out, but thinking of how much better my life could be kept me going.
"I wanted my son to see me without drink. I wanted my friend to see me, and know that I was OK."
The treatment lasted for seven months, and then Linda moved into her current flat to be near her friend. "I've been sober for more than a year now. It's nice here – it helps.
"I have made lots of friends and I plan trips for us. I even organised a pub lunch, so that the first time I went back in a pub I'd be with friends so wouldn't feel so anxious!
"I'm safe here. If I need any help, I just knock on the office door – even if I just want to talk - I know they're there for me. I'm going to stay here – it's what I need."
Our Independent Living for Older People schemes (ILOPs) provide a home for residents to live independently, with the added support of day managers on site and a sense of community.