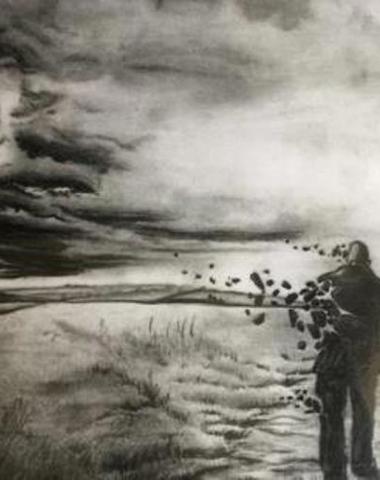 They say a picture speaks a thousand words, but often it can say even more. For Jake, from Loughborough, art can express feelings that cannot be put into words, a way to process all that he has been through.
"All my pictures have to have a meaning or a purpose. Drawing is a way for me to express my emotions and deal with how I've felt in the past."
Several years ago Jake was involved in a serious accident; doctors gave him just four hours to live. But Jake defied everyone's expectations: "I survived for my daughters. There is no way I was going to let them down. I have had to learn to walk and talk again. I have recovered better than anyone thought possible."
The road to recovery hasn't been easy for Jake: "At the time I felt like everything was being taken away from me and that none of it was my fault." He spent time in rehab, and it was there that he benefited from speaking to others about their own experiences.
It was in rehab he rediscovered his love of drawing: "I come from a really creative family; drawing is part of who I am."
One picture, which depicts a lone man walking along a path, really sums up how he felt whilst in recovery: "I felt I hit the nail on the head with this one. A lot of the others in rehab influenced that picture, how they were dealing with detox, how much they were missing their families."
But, Jake adds, the drawing is not just about suffering and fear: "The picture is about rebuilding your life."
"The message of the picture is that you shouldn't take the dark path, it'll take things away from you. Stay on the straight path, head towards clearer skies."
Although he is still coming to terms with the aftermath of his accident, Jake is now on that positive path. He hopes that the picture will help others to open up about their experience, to seek help and choose the path to recovery.