"What we wanted, where we wanted"
Shared ownership is an affordable way to buy a home of your own. NCHA's customers have written about their experiences in a series of case studies, to explain what shared ownership has done for them.
Elliott is eager to move into his new home in the quiet village of Wymeswold, Leicestershire. With only weeks left to serve in the army, he can't wait to settle down with his fiancée.
Approaching the end of a two year posting in Cyprus, Elliott and his partner were keen to get on the property ladder once back in England, rather than rent or move back in with parents.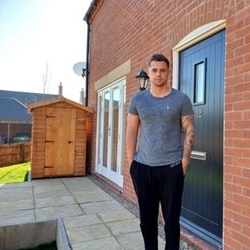 "We were really keen to buy. We wanted to buy a really nice house in a great area, but our finances didn't quite stretch to that."
Elliott wasn't aware of shared ownership before he started house hunting and the new development in Wymeswold came up in his online searches.
"This house was advertised for about £65,000, which I knew couldn't be the full price, and then saw that that was for a 25% share. I didn't know anything about shared ownership, so I did a quick Google search and read lots of positive reviews from others who had bought houses that way."
The couple have taken out a mortgage on 25% of the property's value. "Because we're currently living abroad, we can only get a mortgage on my army income. But when we get back home the banks will accept my partner's salary too, so we should be able to buy a bigger percentage of the house.
"We can increase our share of the house in the future, all the way to 100% ownership. To be honest that was a real selling point for us.
"The sale went through whilst we were in Cyprus. We bought off plan and didn't even see the house until we got the keys! Luckily we loved it!
"With all our communications with NCHA going through email, it was pretty easy really - though getting the legal paperwork shipped over was a bit of a nightmare!
"We used the government's Help to Buy ISA to save up for a deposit and the money the government contributed to our savings paid for all the legal fees.
"We've been able to buy a three bed detached house in a great location, close to both of our families. We never could have done that without the shared ownership scheme.
"It's been a great way for us to get on the property ladder. I've already recommended it to loads of my mates back in Cyprus who are due to return to the UK soon.
"It's allowed us to buy what we wanted, where we wanted and I can't wait to properly move in!"