"Security, flexibility and independence"
Shared ownership is an affordable way to buy a home of your own. NCHA's customers have written about their experiences in a series of case studies, to explain what shared ownership has done for them.
Charlotte and her partner moved into their new home just in the nick of time. Heavily pregnant with their first child, Charlotte is in full nesting mode. Less than two weeks after moving, they are fully settled in.
"I want it all ready before the baby comes," Charlotte explains.
The couple had always rented and buying a home had seemed a long way off in their future. But after years of saving for IVF treatment, they were delighted when the procedure worked first time and they had an unexpected pot of money available to them.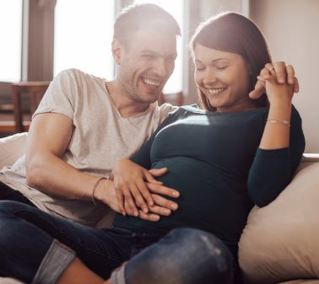 With a new baby on the way, the couple decided that the best thing they could do with their savings was to provide a secure home for their growing family.
Once the couple had made up their mind, Charlotte was on a mission: "I saw this house advertised online. There were no pictures, just 'New homes coming.' I called up about it and immediately put down a deposit! I didn't even know where in the village it was. I had to call my partner, 'I hope you don't mind but …' luckily he was fine with it!
"We'd learned about shared ownership through a friend. We didn't have enough of a deposit to get a full mortgage. We had managed to save a decent amount, but not enough to buy a house in Rothley and it was really important to us that we could stay here near family. I love the village mentality. We don't plan on moving out of here, it's a really good area."
The couple took out a mortgage on 50% of the house's value and pay rent on the remainder.
Charlotte explains: "When we were renting we never had any certainty. Now, this house is ours. It feels like home already. Because we know it's ours, we know we don't have to go anywhere. We definitely plan to stay here and we have the option to increase the share we own by 10% at a time."
She is full of praise for the shared ownership scheme: "If you're considering shared ownership, why would you not go for it? No one knows what the future holds and this provides security, flexibility and independence."