"It's opened up our future"
Shared ownership is an affordable way to buy a home of your own. NCHA's customers have written about their experiences in a series of case studies, to explain what shared ownership has done for them.
For Alice and her partner, lockdown was an opportunity to take stock and decide where they wanted to live.
Thanks to our shared ownership scheme, they're delighted to call their two-bedroomed house in a north Nottinghamshire village 'home'.
The young couple had lived with her parents for some time. They knew they wanted to move out, but with the pandemic they weren't actively looking for a new home.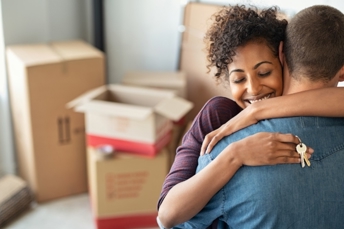 When they heard about the new properties in the village they went to take a look. Liking what they saw, they researched the development online and discovered homes were available for shared ownership. For Alice that was good news: "We knew a little about shared ownership and knew that it would be a cheaper way for us to buy."
Shared ownership is the process of buying part of a home and renting the remainder. For many it is a more affordable way to get on the property ladder; an opportunity to pay towards something more concrete than renting.
Alice has found her new home a popular topic of conversation: "A lot of friends have started asking us about it now! I guess we're all at an age where we're looking to move out, and we want to avoid renting if we can.
"I think that out there, there can be a bit of a stigma around shared ownership. But it's been great for us and I would definitely recommend it to others."
The couple had been saving for some time. They bought a 50% share of their house, with a 15% deposit, and they'll pay rent on the remaining half. They'll also have the option in the future to 'staircase', the process of buying additional shares of the home - something that the couple will consider in the future.
"It all happened really quickly in the end," Alice explains. "It was all a very happy coincidence. We looked through the pack we were sent, arranged a socially distanced viewing and from that one visit we put down the reservation fee. It was the last home left that hadn't been snapped up. We didn't want to miss out!
"It all happened really quickly – despite being in the middle of a global pandemic!
"It's been a big step for us. We've got our own place now, we can think about kids. It's opened up our future!
"With everything that's happened this year, we were so glad to get those keys!"