"I'm proud of what I've achieved"
Shared ownership is an affordable way to buy a home of your own. NCHA's customers have written about their experiences in a series of case studies, to explain what shared ownership has done for them.
For Louise, getting back on the property market was about establishing her independence and providing a secure future for her two children.
After the first month in her new home, Louise couldn't be happier. A single mum of two, this is the first house she has owned since her breakup from the children's father.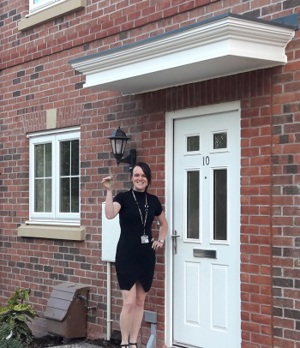 The couple had shared a mortgage, but when the relationship broke down Louise found she was unable to afford to buy a property alone. "It wasn't that I couldn't afford the mortgage payments, I just didn't have the deposit that the banks demanded," she explains.
Thanks to shared ownership, Louise has now been able to buy a three-bedroomed home in Littleover, Derbyshire. Purchasing a percentage of the house meant a much smaller deposit, making it a more affordable option. She pays a monthly mortgage payment on the amount she borrowed and rent to NCHA on the remainder. "It's cheaper. The mortgage and rent I pay now is cheaper than my rent before."
Having rented for the past few years, it was really important to her that she provide more security for her children. "I was starting to worry, what if something happened to me? What would I leave them with, what would they have to fall back on?"
It was a big decision for Louise to buy on her own: "It was really scary, I kept on thinking that this is all on me, it's a lot of responsibility, what if I lost my job? Then I realised that by owning my home I am more secure than if I was renting. Here I have insurance; I have a greater safety net.
"I was looking at shared ownership properties in the village I lived in, but there was nothing suitable. I saw a few, but I would never have been able to buy them outright, they only allowed up to 95% ownership. It was my Mum who spotted this house online. It felt like a massive decision to leave the village I'd lived in all my life, to move schools – but I just had to do it.
"The process was so easy. I went with the solicitor and mortgage adviser that NCHA recommend and they couldn't have been more helpful. I'd call up the mortgage advisor, 'Help! I don't know what I'm doing' and he'd sort it out. It was scary doing it on my own, but he made it so much easier."
Louise's home is a new build and she agreed to the sale after just one look at the plans. "I met Sandra [Sales Negotiator] on site, I saw the spot they were going to build my house on, looked at the plans and immediately put a deposit down. I knew straight away – 'I want that one!'
"It's great being in a brand new house. They're still finishing off the road out the front and they just turned on the street lights, but I couldn't wait any longer to get in. I love the fact that it's a new build and I can do what I want with it. I'm not having to patch up after anyone else, we've moved right in and it's all ours."
Louise moved in as soon as the new house was finished, perfect timing for the children to start at their new schools. "They love it here. They got to choose the carpets in their bedrooms; they've got so much space, even their own bathroom. And they love the garden. It's got grass! That's what I really wanted for them, a proper garden. They are outside playing all the time. It's perfect.
"I have the option to own up to 100% of this house one day. And I will do. I've already got plans to meet my mortgage advisor in two years to see how I can make it happen.
"I'm just so happy. I love it and I'm so glad it did it. It was so scary going it alone, but now it's done, it am so much more secure and I'm proud of what I've achieved."