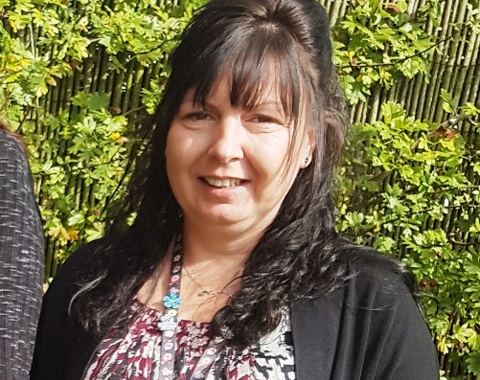 Our refuges are a lifeline, a place of safety, where people can begin to rebuild their lives. For Mandy, her story has come full circle. She now manages the very refuge where she herself once sought shelter: "The day I walked back through the gates as a member of staff was a massive step forward for me."
Mandy had been living in a violent and controlling relationship: "I was blind, I couldn't see it. Friends would ask me when I was going to leave, but it always felt that if something had gone wrong, it would have been my fault.
"Looking back, the signs had been there from the start. He was very controlling and it escalated over the years. He alienated me and I became dependent on him."
An early assault had left her hospitalised for ten days, but Mandy says that she 'would have laid my life on the line to say that he would never lay a finger on the kids'. 
Mandy decided she had to leave when her partner attacked their eldest daughter. Mandy stepped in to protect her: "He'd completely lost it. I thought he was going to kill me – he had dead eyes. He was taken away by the police that night."
Terrified that her ex-husband would attempt to follow them, Mandy called Women's Aid, who informed her of our refuge in Lincolnshire. As soon as a flat became available the family arrived with just one suitcase of belongings each. (It is not unusual for people to arrive at the refuge in only the clothes they are wearing.)
Mandy now works at that very same refuge. "Our goal at the refuge is empowerment. Even though your head is in a million pieces the staff are working hard to get you a secure home, from the minute you walk through the door. A few months after I arrived with my children, we were moved into a home of our own. The children got places in the local school and we began to rebuild our lives. Living here was the best four months we'd ever had: flat 4 is where we felt safe, where we learnt to start again.
"When I got the new house, one of the first things I bought was a doormat that read 'Happily ever after starts here'."
Mandy has some words of advice for anyone who is currently experiencing domestic abuse: "Leave now. Don't wait till after Christmas, after a birthday. Do it now. You are stronger than you think. If you live in an abusive relationship, manage the manipulation, the constant put downs, the physical assaults and threats to your life, and can still function, then you have the strength to leave. They know you are strong and they are trying desperately to break you to keep you where they want you. You deserve so much more and help is out there. A refuge will give you the time you need to regain focus, and the help to access the services you need in order to make that break. Reach out."
Get help
If you're experiencing domestic abuse and are in immediate danger, call 999. 
You can also contact us and ask to speak to your estate officer.