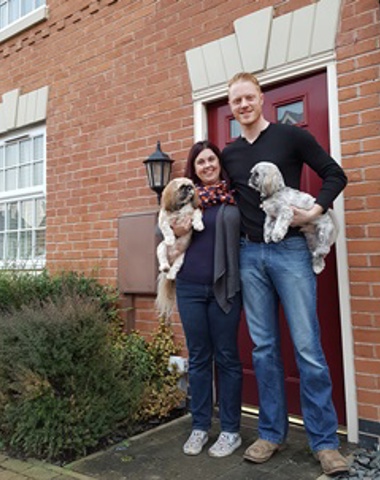 Kirsty and David moved into their three-bed NCHA property in Melbourne only two days before Christmas, desperate to be in their new home and close to family before the festivities began.
"Our old house was tiny, with only one bedroom," explains Kirsty. "With the two of us, two dogs and our guinea pigs, it was a bit crowded! But we'd downsized from a two bed rental to try and save for a deposit on our first mortgage."
"We had planned on buying a property outright, and nearly bought two other houses, but both fell through at the last minute. This is a highly sought-after, expensive area. We never thought we'd be able to afford to buy here, so we were looking at smaller housing in more affordable areas. Then we saw this house on Right Move and decided to take a look.
"Taking out a mortgage on only 50% of the property has enabled us to buy a larger house than we thought we could afford. We have the security of owning half of this house, with an option to increase to 100% in the future."
The estate in Melbourne that Kirsty and David now call home is six years old. The beautifully finished homes with maturing plants and trees make this a very desirable place to live. Their shared ownership property had been home to previous occupants, when they decided to move on the house became available for resale as a part-rent part-buy, allowing Kirsty and David the opportunity to get on the housing ladder.
"The process was simple," says Kirsty, "and NCHA offered support at every stage. The purchase was really smooth. There was no chain above, and we were first time buyers, so no danger of anyone pulling out!"
For the young couple, it has been a wonderful experience. "As soon as we moved in it was like, oh my goodness, we can paint the walls, we can put stuff up. We have creative freedom now. When you're renting, it never really feels like it's your own home.
"It's amazing to have a vision and mould it to what you want. This is ours. We now have the security that a landlord can't sell our home from under us. If we'd bought a smaller house outright we may have had to move again in a few years. Now we can stay put and grow in this home. It may even be our forever home."