Living with a learning disability
24 June 2022
This Learning Disability Week Neville tells us a little about his life: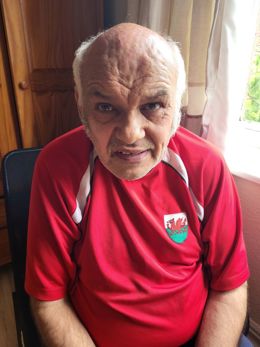 I want to tell the world… "make it a better place, stop the wars".
Things I love… "I love going to see my brother Phillip with staff. I love classical music and going on holidays, trips out to the seaside and cinema, also football matches."
I want to change… "The world to be a better place, nice and safe for everyone. I wish I was the prime minister to cut prices down."
What I'm proud of… "I was proud of watching the Jubilee celebrations, watching Wales win at football and Nottingham Forest getting promoted."
What I worry about… "That I get panic attacks. I worry about my friends and family and that I miss them. I worry about what is going to happen when I die."
How I feel about my life… "Covid stopped me going out and enjoying things I liked. I'm now looking forward to saving some money, I'm also excited about going to the Playhouse to watch Identicals and Dick Whittington at Christmas. I am also excited to see Elvis in the cinema with my friend. Sometimes I feel happy and sad about life but mostly happy. I like living here."