Success for tree planting volunteer day
17 February 2023
Huge thank you to everyone who came along!
We'd like to say a big thank you to the 75 volunteers who turned out to plant over 500 trees in Rainworth, Mansfield, on Valentine's Day.
A fun day for all ages
It was great to see so many young volunteers from the local area, especially from Rainworth's Python Hill Academy, turning out to support the cause. The children joined forces with NCHA colleagues, service users and local community members to help make the day a roaring success.
Tree types planted included everything from tall silver birches and oaks to rowan, hawthorn and gorse. Our younger volunteers also got to enjoy tree-themed quizzes, word-searches and learn fun facts about trees.
A big thank you
We're very grateful to Greenwood Community Forest, in partnership with Sherwood Forest Trust, for making this activity possible with their generous Trees for Climate funding.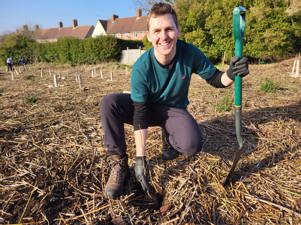 Special thanks as well to Fortem Solutions for their support, and our contractor Ramscapes, whose team worked hard preparing the ground and clearing the site of fly-tipping before the event to ensure the safety of our volunteers.
We were pleased to be educating the children about the importance of caring for our planet, so together we can create even better homes for local wildlife species to thrive for years to come.
Finally, thanks again to everyone who came along to plant trees – we couldn't have made this positive difference without all your help and support.
Learn more