New fire regulations for buildings with communal areas
23 January 2023
From Monday 23 January 2023
The safety of our customers remains our upmost priority. From Monday 23 January we will be fully compliant with the new Fire Safety Regulations for multi-occupied residential buildings in England, covering the information given to residents and the inspection of fire doors.
The new regulations will affect over 3,000 of our properties.
Information sharing with customers

We've sent fire safety information directly to our customers who live in a property with communal areas (usually flats). This information includes details on:
Where to find the fire action notice for their building
Considerations for establishing a personal escape plan
The new requirements for inspections of fire doors.
This information will be provided to all new residents when they first move into their home, and we will send reminders out every year.
Additional inspections of fire doors
We will be inspecting all communal fire doors every three months. Communal doors are those in corridors and entrances.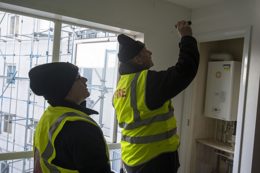 Fire doors fitted as front doors to flats will be inspected every 12 months. We'll need to access each flat once a year to check both sides of the front door, this is a legal requirement. We'll contact customers directly when it's time to book an appointment. 
The inspections will ensure that every fire door:
Closes and latches fully
Has no large gaps, holes or damage
Has no missing hinges, or damaged seals / smoke strips.
Partnership working with the Fire Service
To ensure we're compliant with all the regulations, and secure the safety of our customers, we'll be working closely with our local Fire Services, sharing information and supporting practice emergencies and evacuation drills.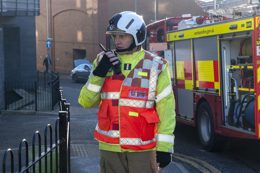 We've been working closely with Northampton Fire and Rescue Service, developing procedures and carrying out fire safety works to the Pinnacle, our ten-storey building in the city. In December 2022 we provided access to the flats, for the Fire Service to run a high-rise rescue training exercise.
Three crews took part in the simulated rescue of two casualties from a third floor flat. Cosmetic smoke, sprinklers and fire doors helped to replicate a real-life incident.
Chris Bridgewater, Incident Commander for the exercise, said: "This exercise was designed to allow us to train and replicate an incident in a tall building. It culminated in a successful conclusion and reinforced the procedures we have in place to keep the residents of Northamptonshire safe. I would like to thank NCHA and residents of the Pinnacle for their support."
Ian Rabett, Group Health Safety and Risk Manager for NCHA, said: "Thanks to Northamptonshire Fire and Rescue Service for running such a successful exercise. We're continuingly grateful to them for our partnership working over the past few years.
"Great partnership working with local fire services is essential to our learning and support for our customers. We're always happy to support such training opportunities and look forward to future collaborations."