Going the extra mile
24 February 2021
During routine checks at NCHA's development in Rainworth, we found that tarmac work was needed for one of the homes.
When Danielle, one of the residents, was asked to move her car it became clear that it had stopped working. After 45 minutes and help from the team at Dukeries Homes, our builder, she managed to get the car started.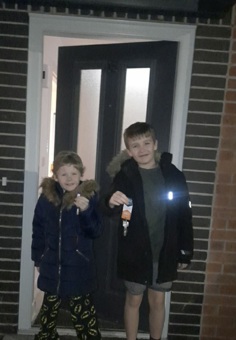 A couple of days later Karen, Danielle's mum, began speaking with Ashley, the site manager. Over time, Ashley became aware of the struggles the family were facing. Danielle's daughter was in hospital battling another round of cancer. Karen, heartbroken, described the pain and anguish the family were feeling during this time.
Danielle explained: "It's been difficult. She [Danielle's daughter] had cancer in 2019 when she was six. Now it's returned, so it will be treatment and surgery again."
Moved by what the family were going through, Dukeries Homes decided that they had to do something special for them.
Stephen Clarke, Director of Dukeries Homes, said: "Throughout most of our lives, cancer will have struck a chord, but to hear that such a lovely young girl was fighting this disease again and over Christmas was so terrible. We had to give something back, we had to make this better."
Ashley began speaking with individuals on site about Danielle and her daughter. Once word travelled, Dukeries Homes were approached by RN Surfacing Ltd, who wanted to help. After clubbing together, they managed to raise enough money to replace Danielle's car with a newer, more reliable one. This will be really helpful to Danielle when travelling back and forth for her daughter's hospital appointments.
"It was really amazing", she said. "We were at hospital at the time of the work, so it was a bit of a surprise."
Dukeries Homes were also approached by various sub-contractors wanting to help. With loads of individuals chipping in, they carpeted Danielle's house along with providing toys and a tablet for her daughter.
Thanks to everyone who helped this family and we wish them the best for the future. A special shout out goes to Dukeries Homes, RN Surfacing Ltd, Old Mill Lane Garage and United Carpets and Beds.