Customer STAR survey results
10 January 2023
We are pleased to remain the highest performing landlord in our peer group.
Every two years NCHA – along with most housing associations – commission an independent 'Survey of Tenants and Residents' (STAR). The results help to ensure we're giving our customers the best possible service, and to identify where we need to make improvements.
The survey uses standardised questions issued by HouseMark (a data and insight company for the housing sector) to allow us to benchmark how we're doing against housing associations of a similar size.
Customer satisfaction
Our 2022 STAR survey was sent to over 3,000 customers, which saw a good response rate and more customers responding online than ever before.
Rates of customer satisfaction continue to be high across all key areas. 87% of customers were satisfied that 'NCHA provides a home that is a safe and secure'. Customers also rated 'the service provided by NCHA' as 84% and 'overall home quality' scored 83%.
HouseMark reports that overall satisfaction levels are declining nationally, and this is reflected in our own results being a little lower than in 2020. Despite this, we're thrilled to be rated the highest performing landlord in our peer group, with a high overall customer satisfaction score of 84%.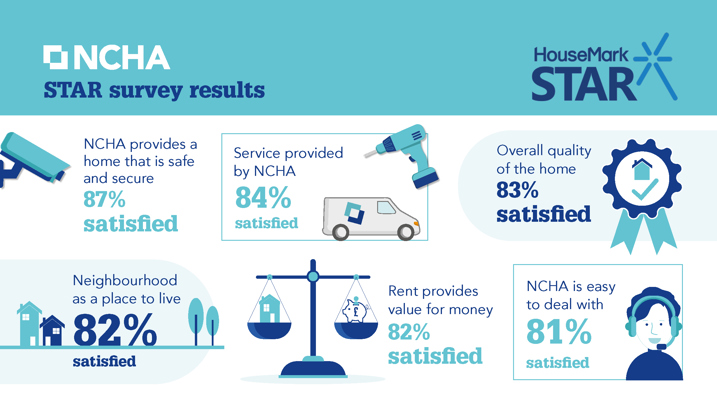 Next steps
The survey's results have been presented to our Customer Committee, alongside an update on progress on the 2020 STAR action plan and a draft strategy for addressing development areas. The delivery of this will be overseen by NCHA's Senior Leadership Team (SLT).
The Regulator for Social Housing will be introducing new measures for customer satisfaction in 2023.
Look out for more information later in the year!