Right on time
27 October 2020
We have just completed a full refurbishment of a well-known Newark landmark; the 150 year old Clock Tower on Mather Road.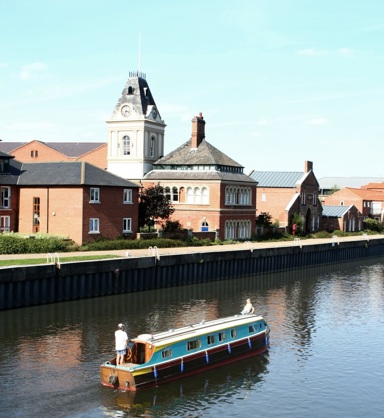 Standing proudly by the river, opposite Newark Castle, The Clock Tower is part of the town's rich history. For a few years now it's been in need of a bit of attention, and the four clock faces have had a habit of not always telling the same time!
The tower sits on a former industrial site, wedged between the River Trent and the railway line. The site was sold to NCHA in the early 1990's and we took on responsibility for its three existing listed buildings. Stephenson House and the 'old engine shed' were both converted into flats. In total 176 homes were built on the site for affordable rent and shared ownership.
The Clock Tower, the most prominent of the three listed buildings, was added to and is now part of Muskham View apartments for older people. It offers 21 self-contained, warden aided flats for people over 60, and the building has had its Grade II historic features preserved.
It's been a central time-piece in Newark for a century and a half, but The Clock Tower needed some general repairs as well as work to the clock itself. It's undergone a complete renovation; a total clean, repaint, repairs to doors and windows, replacement mechanisms to the clock faces, and new LED, energy-saving light fittings.
The work has been completed to the strict criteria set for a Grade II listed building and using approved materials.
The new clock system was originally built by Gillet & Johnston, specialists in clock manufacturing since 1844. The new system, installed by Time Assured, a local clock maker has a built in receiver linked to the National Physical Laboratory's radio signal, ensuring that all clock faces will tell the correct time. The time will even automatically adjust when the clocks go forward and back each year.
Now, thanks to The Clock Tower, future generations of Newark will never have an excuse to be late!