Board unveils international tree planting initiative
21/04/2023
In honour of World Earth Day (Saturday 22 April), NCHA's Board is pleased to announce a special contribution they've made towards furthering our environmental sustainability efforts.
With it being our 50th anniversary year, the Board has sportingly fundraised to plant one tree for every day we've been in existence – 18,262 when you consider leap years!
The donated trees are being planted far and wide across the world to aid projects ranging from reforestation to saving fruit tree species in a variety of different countries.
Reducing our global carbon footprint
This initiative has been organised in partnership with Ecologi, a movement that works with businesses to create climate solutions.
These trees alone have the potential to remove well in excess of 10,000 tonnes of CO2 over their lifetime.
NCHA's tree planting activities include:
5,000 trees to support 'mangrove planting' at Kandrany, Madagascar
4,500 trees for a flourishing future for the Gewocha Forest in Ethiopia
2,500 trees to support forest restoration in Kenya
1,000 trees are helping to save endemic Moroccan fruit tree species
1,500 trees for planting forest gardens in Tanzania
1,500 trees to aid reforestation in Mussuquelane, Mozambique
1,000 trees towards restoring degraded land in Senegal
762 trees for mangrove planting in Irregele Milato, Mozambique
500 trees to protect and restore Andean Forests in Bolivia.
A variety of tree species
Each tree species has been carefully selected to best complement the local natural landscapes. They satisfy the requirements needed to help restore and protect forests and green spaces that perform an invaluable role in the chosen communities.
This project also speaks to our local tree planting efforts in Rainworth – showing how, no matter whether we're planting in Nottinghamshire or Africa, we are all connected through the importance of caring for our world together.
Green change through positive action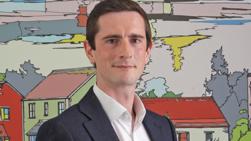 Callum Gillespie, Chair of the Board, announced this project at the launch of our 50th anniversary exhibition at Nottingham Contemporary on Wednesday 19 April.
Callum said: "The Board was keen to do something to celebrate NCHA's 50th anniversary which reflected all the work that's been done over the years, and also supported our environmental agendas. International tree planting felt like a perfect fit. I'm really pleased we fundraised for the 18,262 trees, not only representing every day we've been in existence, but also making a noticeable, positive impact on the climate.
"If there's one thing we understand at NCHA it's the importance of creating a safe and sustainable home. Our planet is everyone's home, and it's a privilege to deliver on our corporate social responsibility to ensure we're safeguarding our natural world for the benefit of future generations."
Read our Environmental Sustainability Strategy.
​