What a milestone!
23 July 2021
We've been delivering affordable housing across the East Midlands for nearly fifty years, and this is a key milestone for us.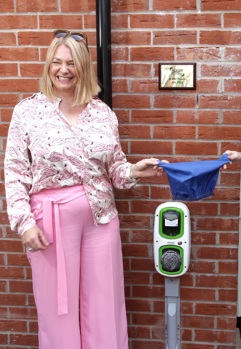 Our 10,000th home is part of our new development off Morley Avenue in Mapperley. On the site of a former textile factory, the name 'Tapestry Close' has been chosen to commemorate the former use of the site.
The 32 new homes are a mixture of affordable rent, Shared Ownership, Rent to Buy and supported living flats, proving a range of affordable housing options for local people.
NCHA's team of directors met with representatives from Nottingham City Council and the new residents of Tapestry Close to celebrate the completion of the new homes.
In honour of their 10,000th home, NCHA's Director of Homes and Wellbeing Holly Dagnall unveiled a commemorative plaque alongside its new occupants Chloe and her daughter. The proud new residents of this milestone home, are still in the process of settling in but it's already exceeding their expectations.
The mother and daughter have spent the last eighteen months sharing a bedroom with Chloe's sister, and are delighted with the generous bedrooms and garden in their brand-new home.
As Allan Fisher, NCHA's Director of Development and Assets explained in his speech: "The average house price in Mapperley now is over £270,000, while the average salary in Nottingham is around £33,000. These houses are really needed.
"Reaching this, our 10,000th home, is part of our ongoing development programme and our Fit For 50 pledge to build a further 2,100 homes over the next five years." 
Mark Lowe, Head of Housing and Regeneration for Nottingham City Council also spoke of the value of affordable housing in the area:
"Now more than ever partnership working, with organisations like NCHA is key to Nottingham City Council delivering their target of 1,000 new affordable homes by March 2023. It's great it be here today; to witness the very real positive impact on people's lives that schemes like this make."
At NCHA we've grown steadily since we began in 1973, acquiring and building new homes year on year to reach our 10,000th this month.
Find out more about our history on our Our story page.