Our people
Attracting and supporting talented people to work at NCHA allows us to deliver the high quality services you've come to expect.
85% of our colleagues would recommend NCHA as a good place to work.
Joshuah's story
Joshuah Sharpe-Adams joined NCHA as a temporary electrician three years ago and hasn't looked back. Now a permanent member of our Property Services team, Josh plays a crucial role in keeping our customers and their homes safe.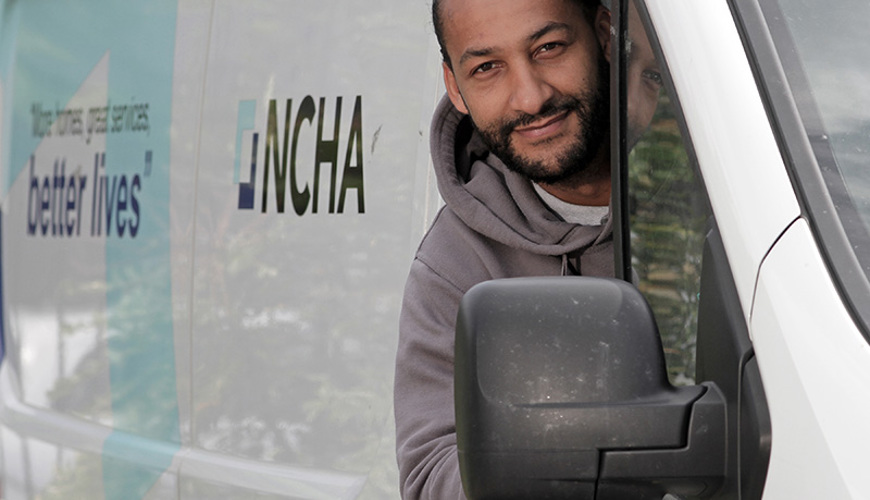 "My job is to visit our properties and carry out the required five year electrical test to make sure everything is safe. Our customers and their homes are all so different, I never quite know until I knock on the door what each appointment's going to need from me.
"My first priority at any job is to make sure that our customer understands why I'm there, and what I'm going to be doing during the visit. This can sometimes be a challenge - especially for customers whose first language isn't English. Where I need to, I'll use Google translate to help build their trust – as a result I've learned how to say 'hello' in lots of different languages!
"I'm aware of the responsibility that my role has. Often it's only me or one of my Property Services colleagues who see our customers from month to month, so it's important that we make sure they're safe and comfortable, and where we have concerns, raise them with our Community Support team. This happened recently after I visited a family and realised they were struggling to look after themselves and their home. I fed this back to my colleague who made sure the family got the additional support they needed. I went back a few weeks later to carry out the inspection and I was really pleased to see that they were in a much better place, and I was able to do the work I needed to make sure their home was safe.
"It's a great feeling to know what when I walk out of a property it's safer than when I arrived, and that the customers are happy and secure. I'm looking forward to seeing what my future holds at NCHA. As soon as time allows I'm hoping to take part in some leadership training so that I can take the next steps to becoming a team leader, and maybe one day a manager."
We're working to reduce our gender pay gap, which for 2020/21 was 16.24%. And it's our ambition to be able to pay all colleagues the Real Living Wage, something that we're currently unable to do due to limitations on care funding contracts. We will continue to lobby local and national stakeholders to address this.